Open daily from 9:00 to 23:30
Product sizes
Metric
Imperial
Length
100

cm

Length
39.37

"

Depth
17

cm

Depth
6.69

"

Height
15.5

cm

Height
6.1

"

Weight
1.54

kg

Weight
3.4

lb
Materials & Finishes
Materials
Finishings
pine

lacquer: glossy

transparent

normal

water-based
Package details
Metric
Imperial
Length
104 cm
Length
40.94 "
Width
17 cm
Width
6.69 "
Height
19 cm
Height
7.48 "
Weight
1.85 kg
Weight
4.08 lb
Volume
33.59 dm³
Volume
1.19 ft³
Package does not include
wall screws and dowels
We recommend
Please keep instructions for future reference.
Care instructions
Wipe clean with a dry cloth.
Dust regularly with a clean dry cloth.
Wipe with a damp cloth and dry.
Take care when placing the piece on the wall to avoid damage to the wall finish.
Other information
This product has 3 yrs Guarantee by HANDMADE.
Simple Assembly Required.
About ADALL
Traditionally handcrafted using only local wood, this towel rail complements any modern decor.
Thanks to its ergonomic design based on functionality, the towel holder is modular and can be assembled, set, or adjusted depending on your style and needs, thus drying towels is quicker and more effective between uses.
Each product has its own beauty, thanks to the knots and the natural imperfections of the solid wood grain.

About HANDMADE Environmental Friendly Packages™
At HANDMADE, we care for the environment, therefore we use Environmental Friendly Packages™ for our products, which are similar to other retail packages, but they are much stronger, high quality made and we use only recycled materials in their composition.
Please read more about our environmental friendly project.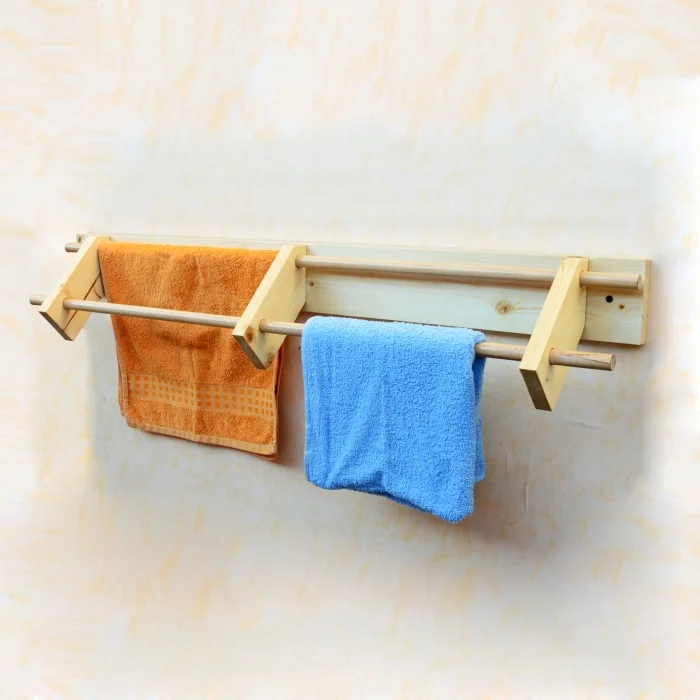 Similar products in Hooks & Rails category
Questions & answers
(There are no questions)
Do you need more information about this product?
Be the first to send us a question.
Ratings and reviews
(There are no reviews)
0.0

(There are no reviews)

5 stars

0%
(0)
4 stars

0%
(0)
3 stars

0%
(0)
2 stars

0%
(0)
1 star

0%
(0)
By feature
| | | |
| --- | --- | --- |
| Value for money: | | 0.0 |
| Easy to use: | | 0.0 |
| Durability: | | 0.0 |
Do you own or use this product ?
Share your thoughts with other customers
Do you own or use this product ?
Be the first to review this product