Open daily from 9:00 to 23:30
SELY
Bottle and Glass Holder
23 x 8 cm
Product sizes
Metric
Imperial
Length
28

cm

Length
11.02

"

Width
8

cm

Width
3.15

"

Thickness
2

cm

Thickness
0.79

"

Middle hole
3.5

cm ø

Middle hole
1.38

" ø

Channel for glasses
1.8

cm

Channel for glasses
0.71

"
Materials & Finishes
Materials
Finishings
oak

lacquer: glossy

transparent

ECO EN71/3

water-based
Package details
Metric
Imperial
Length
25 cm
Length
9.84 "
Width
10 cm
Width
3.94 "
Height
25 cm
Height
9.84 "
Net Weight
200 g
Net Weight
7.05 oz
Gross Weight
350 g
Gross Weight
12.35 oz
Volume
6250 cm³
Volume
381.4 in³
Package does not include
Wine bottle not included and glaesses
We recommend
Please keep instructions for future reference.
Care instructions
Wipe with a damp cloth and dry.
Do not strike with hard or pointed items, as it may damage the lacquer finish.
Other information
This product comes with a 3 years Guarantee by HANDMADE.
About SELY
This holder for bottle and wine glasses makes serving much easier. It is ideal for storing a bottle of wine and 2 standing glasses. Its rustic design and the natural color of the wood make it perfect for your home decor. It is made of solid and durable wood, has a pleasant appearance, and takes up little space.
The fine,natural luster obtained by varnishing gives it a touch of elegance and a special charm.
About HANDMADE Environmental Friendly Packages™
At HANDMADE, we care for the environment, therefore we use Environmental Friendly Packages™ for our products, which are similar to other retail packages, but they are much stronger, high quality made and we use only recycled materials in their composition.
Please read more about our environmental friendly project.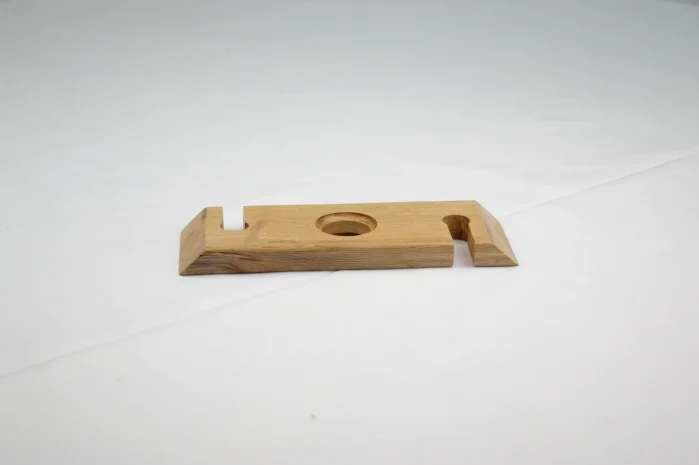 Similar products in category
Questions & answers
(There are no questions)
Do you need more information about this product?
Be the first to send us a question.
Ratings and reviews
(There are no reviews)
0.0

(There are no reviews)

5 stars

0%
(0)
4 stars

0%
(0)
3 stars

0%
(0)
2 stars

0%
(0)
1 star

0%
(0)
By feature
| | | |
| --- | --- | --- |
| Value for money: | | 0.0 |
| Easy to use: | | 0.0 |
| Durability: | | 0.0 |
Do you own or use this product ?
Share your thoughts with other customers
Do you own or use this product ?
Be the first to review this product