Open daily from 9:00 to 23:30
Product sizes
Metric
Imperial
Length
39

cm

Length
15.35

"

Width
27

cm

Width
10.63

"

Height
53

cm

Height
20.87

"

Inner length
31

cm

Inner length
12.2

"

Inner depth
25

cm

Inner depth
9.84

"

Inner height
9.5

cm

Inner height
3.74

"

Weight
2.6

kg

Weight
5.73

lb
Materials & Finishes
| Materials | Finishings |
| --- | --- |
| pine | sanded |
Package details
Metric
Imperial
Length
42 cm
Length
16.54 "
Width
20 cm
Width
7.87 "
Height
50 cm
Height
19.69 "
Net Weight
2.7 kg
Net Weight
5.95 lb
Gross Weight
2.8 kg
Gross Weight
6.17 lb
Volume
42 dm³
Volume
1.48 ft³
We recommend
A partial assembly is required
Care instructions
Clean with a damp cloth and wipe dry with a clean cloth.
Other information
This product comes with a 3 yr Guarantee by HANDMADE.
About MELEB 3
With a simple and practical design, this pine storage rack is ideal for your home as it will provide a place where you can store fresh vegetables or fruits so that they will be at hand when preparing food or simply want to eat fruit.
It is a really strong and durable construction with a high weight-bearing capacity, easy to assemble in just a few minutes, and takes up very little space.
Important to know
This storage rack does not come with mounting holes in the baskets because we want to offer our customers the chance to assemble their racks in the position they want.

Our storage rack can be assembled vertically as shown in the product picture or it can be assembled inclined in several directions to provide extra space for access to baskets. You can also choose the height between the baskets if you have more vertical space in the location where you will place them.

As an assembly secret, you can use a single row of screws to give the chance to change the position in which it is assembled when desired by applying a little force on the product or you can use 2 rows of screws to be assembled in a fixed position.
The product is made of pinewood and when you assemble it, the holes that will be made after the assembly will be covered by the wooden sides and it will not affect its appearance.

We chose this approach based on previous discussions with our customers in which each of them wanted their own assembly style, and we decided to offer a solution that would give all customers the chance to assemble their product as they wish.
About HANDMADE Environmental Friendly Packages™
At HANDMADE, we care for the environment, therefore we use Environmental Friendly Packages™ for our products, which are similar to other retail packages, but they are much stronger, high quality made and we use only recycled materials in their composition.
Please read more about our environmental friendly project.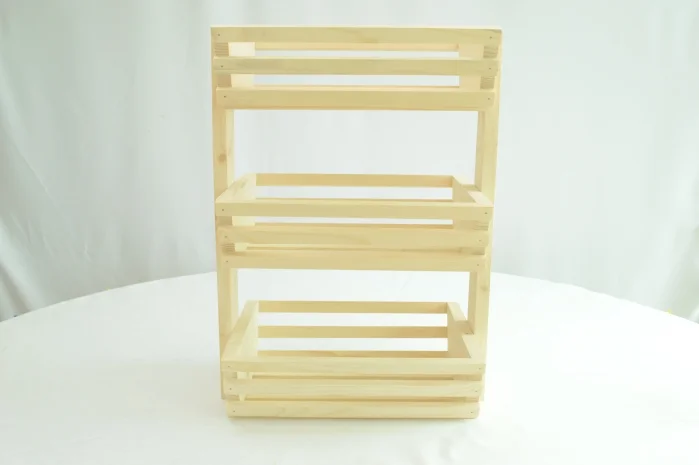 Similar products in Fruit Stands category
Questions & answers
(There are no questions)
Do you need more information about this product?
Be the first to send us a question.
Ratings and reviews
(4 reviews)
4.3

(4 reviews)

5 stars

50%
(2)
4 stars

25%
(1)
3 stars

25%
(1)
2 stars

0%
(0)
1 star

0%
(0)
By feature
| | | |
| --- | --- | --- |
| Value for money: | | 0.0 |
| Easy to use: | | 0.0 |
| Durability: | | 0.0 |
4 reviews
with verified purchase
Do you own or use this product ?
Share your thoughts with other customers
CB

Carl Battersby

Verified purchase
A well finished item and not too big so as to get in the way but also has quite a bit of capacity. No instructions with the item but quite easy to put up. Just to make things easier it could come with a couple of marker lines to set the centre struts to instead of having to measure them yourself.
Review written on 14 Jun 2020 at 18:46:37
NH

Natalia Herbison

Verified purchase
Being used to display fruit in the kitchen and love the idea that it looks like something out of a market stall.
Review written on 19 Aug 2020 at 18:48:41
NK

Natalia Khaw

Verified purchase
Like the design. Very useful and helpful in the kitchen.
Review written on 31 Oct 2021 at 18:49:20
E

ellab2011

Verified purchase
Nice design but the quality not too impressive
The idea is good as it's made from wood and it's large but the quality is not so good .
The screws was not in the right place and not properly done. They should put a bit more effort to do it better as the design is good.
Review written on 07 Jan 2020 at 18:47:39