Open daily from 9:00 to 23:30
Product sizes
Metric
Imperial
Length
18

cm

Length
7.09

"

Width
4

cm

Width
1.57

"

Height
20

cm

Height
7.87

"
Materials & Finishes
Materials
Finishings
pine

paint: matte

natural (water-based)
Package details
Metric
Imperial
Length
22 cm
Length
8.66 "
Width
22 cm
Width
8.66 "
Height
7 cm
Height
2.76 "
Net Weight
300 g
Net Weight
10.58 oz
Gross Weight
500 g
Gross Weight
17.64 oz
Volume
3388 cm³
Volume
206.75 in³
Package included
1 bracket

Package does not include
Screws are not included.
We recommend
Different wall materials require different types of fixing devices. Use fixing devices suitable for the walls in your home.
If you are uncertain about what type of fixing devices to use, please contact your local hardware store.
Care instructions
Wipe clean with a cloth dampened in a mild cleaner.
Wipe dry with a clean cloth.
About LADOM
With a simple and traditional design, these white pine shelf brackets being painted are water-resistant and they are ideal for use in the kitchen, bathroom, or any other place where there may be moisture, making them the ideal choice for a large number of DIY projects inside or outside your home, office, and garage. These brackets are made of solid wood and are a really useful product for your project.
The natural color of the wood fits any piece of furniture and gives off a pleasant atmosphere in the places it is used.
They come with mounting holes pre-drilled so all you have to do is screw them to the wall. Use these brackets to make your own shelving and more and simplicity will turn your area into a really special place.
Benefits
The bracket is reversible and fits both 20 and 25 cm deep shelves, depending on which side of the bracket you mount the shelf on.
Mount the short side on a 20 cm deep shelf and the long side on a 25 cm deep shelf.
Important to know
Maximum load 40kg
The maximum load shown may be lower depending on the wall condition. All loads should be distributed evenly.
About HANDMADE Environmental Friendly Packages™
At HANDMADE, we care for the environment, therefore we use Environmental Friendly Packages™ for our products, which are similar to other retail packages, but they are much stronger, high quality made and we use only recycled materials in their composition.
Please read more about our environmental friendly project.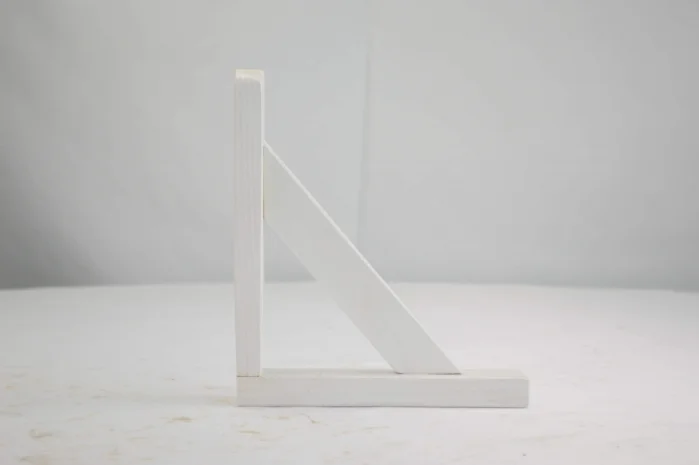 Similar products in category
Questions & answers
(There are no questions)
Do you need more information about this product?
Be the first to send us a question.
Ratings and reviews
(2 reviews)
1.5

(2 reviews)

5 stars

0%
(0)
4 stars

0%
(0)
3 stars

0%
(0)
2 stars

50%
(1)
1 star

50%
(1)
By feature
| | | |
| --- | --- | --- |
| Sturdiness: | | 0.0 |
| Easy to assemble: | | 0.0 |
| Value for money: | | 0.0 |
2 reviews
with verified purchase
Do you own or use this product ?
Share your thoughts with other customers
C

Captain_Wussboy

Verified purchase
Finish not great on the ones I received. Returned and bought some similar but better finished ones for lower price from B&Q.
Review written on 01 Jan 2021 at 22:11:16
B

BiggYinn

Verified purchase
These arrived a bit of a mess had extra holes and looked as if made from scrap also the radius of the curved edges didn't even match
Review written on 31 Mar 2020 at 22:10:24